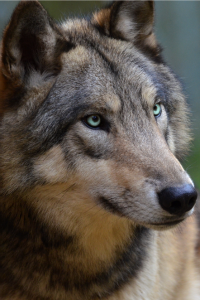 BASIC

Name: Yekaterina
Age: 3 Summers
Gender: Female
Species: Eurasian Wolf

(Canis Lupus Lupus)


Sexuality: Heterosexual
Ability: Moisture Manipulation, Atmokinesis
Rank: Jarlkona
Clan: Asatru
____________

Weaknesses:
- Open ground with little foliage,
- Becomes inadequate in the heat of the day,
- Fault of sight.
Strengths:
- Peak of strength is when moisture is at it's highest,
- A mind of sanity and wisdom,
- Strong sense of echo location.
Likes:
- The high peaks of Mt.Gildeon,
- Winter nights,
- Heavily dewed grasses.
Dislikes:
- Ornery personalities,
- Dry summer days,
- Lack of control.
____________

APPEARANCE

Harnessing an Taupe, Khaki and Tan derma, Yekaterina holds a significant elegance in not only the smooth colour gradients covering her from head to tail, but also with a regal beauty as she holds herself within an aura of dominancy but with the knowledge of equality veiled over her mind.

The base of her pelt is of a lightened tan, circling only the underbelly, chest, gullet and under her almond shaped eyes. Upon the soft gradient from tan to a mixed khaki, the coarse taupe outlines across her haunches, spine and scapulars only to circle around her hackles with two consistently thin rings. It further spreads towards her cranium, becoming sparse in position upon her brow and cheek bones.

Her fur is of medium length. Two layers, one of a thick interior coat created to hold the warmth and the top, a coarse panel of waterproofing. The pendulum hanging between her haunches  stays between 4-5 inches from the ground the common gradient of her pelt complying to it's own covering. Her optics are a smooth turquoise, a teal pigment also inhabiting her iris.

Her build is of an athletic structure, her ribs almost barrelled in exterior but staying in a sleek line with her broad chest and shoulders. Her hips are slim but heavily muscled by the constant strain of exercise. Though her physique seems to take a more masculine form, the contrast in shoulder to hip size causes the frame to curve beautifully. Her legs are of the longer end of the spectrum bringing her height to a solid 100cm.
____________

PERSONALITY●●●

- Disparaging

She likes to complain, even if it has little to do with current situations. She makes remarks about almost anything that doesn't fit her "perfect" society.
- Crude

She doesn't hold back on her vulgar manner of conversing. If there is something to poke fun at, she will make it as offensive as it deems to her
- Dauntless

She holds no fear and refuses to be deterred from the accolade; an honourable prize. This makes her determined to complete tasks no matter the price.
- Staunch

Yekaterina is very true to her word. Once an agreement is conducted, there will be little to nothing that will stop her from following through faithfully. In love or war.
- Zany

This is a trait only those she trusts will see. Combined with her crude humour, her zany behaviour causes it be more amusing than the initial offence meant
____________

LINEAGE/HISTORY

Family: Unknown.
History: can be filled out at a later date
____________

STAT POINTS

Strength - 3/50
Intelligence - 4/50
Agility - 3/50
.
Given the right opportunity,
even those closest to you
will become the enemy.
© copyright, into the primitive 2015
.
Jarlkona




---

Strength

:




Intelligence

:




Agility

:




Reputation

: 0


Honour

: 273



Moved
_________________________________________________________

This Profile has been moved to the 'Character Archive' forum.
A shadow has been left for character reference.
.
Given the right opportunity,
even those closest to you
will become the enemy.
© copyright, into the primitive 2015
.
Jarlkona




---

Strength

:




Intelligence

:




Agility

:




Reputation

: 0


Honour

: 273




Similar topics
---
Permissions in this forum:
You
cannot
reply to topics in this forum